Pay Dailies
You gotta spend money to make money, they say. While it is possible to survive in Neopia without paying much for anything, the benefits of investing your money can prove quite worthwhile.

| | |
| --- | --- |
| The listing below is in alphabetical order. For a quick simple listing of the same links without the explanation, click the Bag of Neopoints to the right. | |
Pick Your Own (400 NP, Meridell)
Enter the farm and pick your berries. Beware, sometimes you'll pick up things like dung or barbed wire. Once you have six items you have to leave so hopefully you don't get dung! Note that you can click things in your basket to remove them but you only get a limited number of chances to do that.
Scratchcards
You can only buy one scratch card from any kiosk every four hours (but you can buy as many as you like from the Market Wizard). You can also only scratch six cards per day.
Deserted Fair Scratchcards (1200 NP, The Deserted Fairground)
Lost Desert Scratchcards (500 NP, Lost Desert)
Scratchcard Kiosk (600 NP, Happy Valley)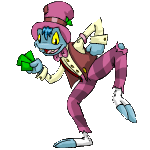 Test Your Strength! (100 NP, Deserted Fairground)
Test your strength at the Deserted Fairground! But beware, like most of the other games in the Fair, the game is rigged against your favor!
Treasure of the Black Pawkeet (300 NP, Krawk Island)
Try your hand at finding the hidden treasure. Prizes of more than 20,000 NP (or less) can be found here.
Racing
Willing to take a gabmle and win big? To the racetracks you shall go!
Poogle Racing (Max bet 300 NP per race, Faerieland)
Turdle Racing (Max bet 1,500 NP per race, Meridell)
Wheels
Spinning the magical wheels is another popular tradition for winning NP and prizes in Neopia.
Wheel of Mediocrity (50 NP, Tyrannia) Every 40 mins.
Wheel of Excitement (150 NP, Faerieland) Every 2 hrs.
Wheel of Misfortune (100 NP, Deserted Fairgrounds) Every 2 hrs.
Wheel of Slime (Free, Neopia Central) Every 8 hrs.
Bratz Disc (Free, Neopia Central) Every 8 hrs.
Wheel of Knowledge (500 NP, Brightvale) Every 24 hrs.
Wheel of Monotony (100 NP, Tyrannian Plateau) Every 24 hrs.